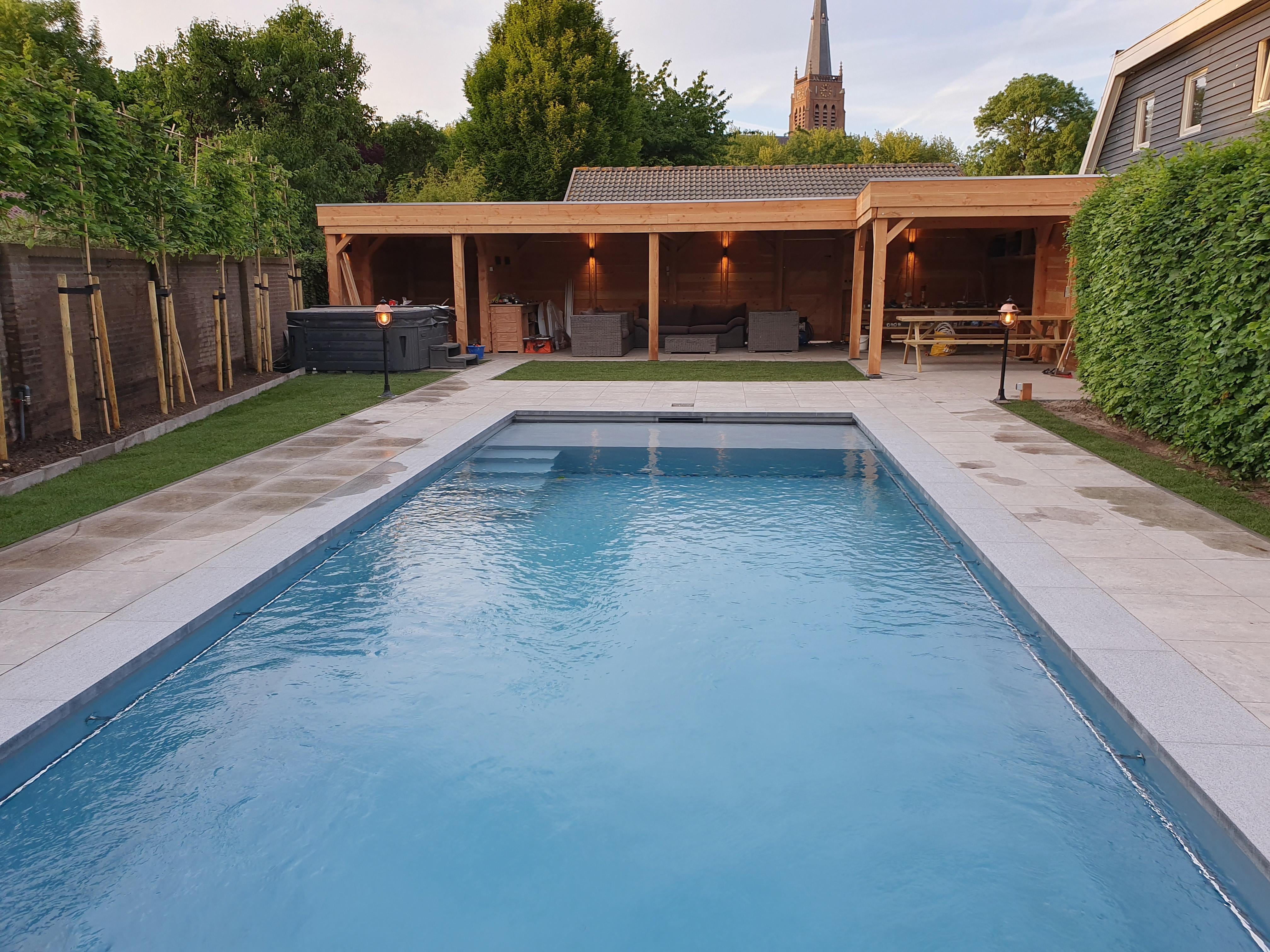 Our guests are able to use the heated pool (10x4 meters / 13x32 feet) during openings season. This includes the whole pool area with large porch (60m2), additional bathroom

The pool will have an automatic safety shutter and the whole pool area is fenced. Children wont be able to go to the pool area without consent of parents.
The whole pool area is seperate from the other garden for the guests. Children wont be able to get in without adults helping them to open the door.
The pool area is completely fenced and fully private area.
The pool is shared with the owners, however they typically only swim during their private hours
The Jacuzzi
The jacuzzi is not included, but can be booked (if well in time). This is only for groups that book all 3 rooms. The costs are €70for the first day, and €35 ​​for each subsequent day. (So: Weekend from Friday to Sunday €105, weekend Friday to Monday €140). Note: The same opening hours apply to the jacuzzi as the pool house and swimming pool. Longer than 3 days? Then we charge 25 euro for each consecutive day.
Please book the jacuzzi well in advance of arrival due to cleaning, heating, etc, because it is not always warm and ready by default. Also it is based on availability.

Sauna:
The spacious +/- 6 person sauna can be booked by all our guests. It is located outside the pool house and where the jacuzzi is located. You pay €25 for the first hour, this includes warming up for +/- 20-25 min. Every consecutive half hour you pay €10. There is a simple plunge pool and a shower. Use of the sauna outside the usual opening hours of the pool house (10am-9pm Oct - March, and 10-6.30pm April - Sept) is certainly possible, but only in consultation. If you have also booked the jacuzzi, you can still use it during that time! We make sure there are extra towels for the sauna. Are you planning to use the sauna more than 3 different times? Then we look at a reduction in the costs of the 1st hour.

Unlimited use of the jacuzzi and sauna during a longer stay? (5 days or more)? Please inquire about costs. (We will always have to maintain end times due to possible nuisance)

Pool season

• In 2023, the swimming pool will be open from April 6 to October 8, 2023
• In 2024, the swimming pool will be open from April 11th to October 6th (Eastern pool opening on request)

Opening hours that guests can use the swimming pool, pool house and (if booked) jacuzzi or sauna:
High season (April 1 to October 3, 2022 & April 6 to October 8, 2023):
• 10.00 am to 6.30 pm. Before and after this there is no access for the guests. Only for the owners.
Low season (October 4, 2022 to April 5, 2023 & October 9, 2023 to March 2024):
• Swimming pool closed.
• Pool house (and Jacuzzi or Sauna if booked) open from 10:00 am to 9:00 pm

--> Music is not allowed at the pool and jacuzzi